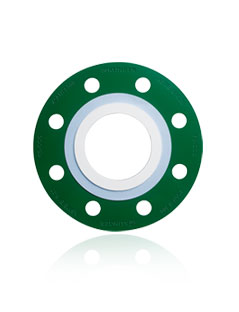 The FSCCG has been developed by Al-Etihad as a solution to sealing corroded flanges which are particularly evident in the offshore environment. Routine inspection of flanges can be completed with the knowledge that the joint can be remade even if flange corrosion is evident.
Consisting of a high precision and high strength metal core that is epoxy resin coated to resist corrosion and give central alignment of the gasket within the flange. The highly conformable GORE™ GR ePTFE primary seal flows into the damaged flange to create a seal and limit further corrosion. Furthermore, a secondary seal of Al-Etihad®topchem 2000 with uniquely holds fire-safe approval to API 6FA, conveys excellent blow out resistance and minimal gasket creep over the life time of the joint.
Properties of FSCCGs
Highly conformable, dimensionally stable ePTFE seal.
Fire safe design.
Can be manufactured in a range of metallic cores including UNS S31254, UNS 32750 and INCONEL 625.