- SYNTHETIC FIBER PACKING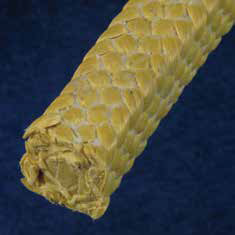 Features & Benefits:
Very strong fibre, higher breaking strength than cotton or flax (Wear resistant, longer service life).
Will not rot in water (Longer service life).
Volumetrically stable, unlike grease special impregnation won't wash out (Low volume loss, less maintenance).
Soft, resilient yarn (Will not score shaft).
Thorough impregnation with PTFE during braiding (Better density and chemical resistance).