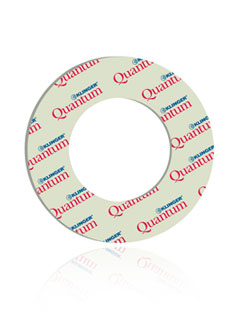 Al-Etihad Quantum is a newly developed gasket developed for use at higher temperatures than all other compressed fibre materials. Al-Etihad have been able to develop new manufacturing procedures to enable the production of next generation of sealing material using Hydrogenated Nitrile Butadiene Rubber (HNBR) as a binder. HNBR brings Al-Etihad Quantum exceptional chemical resistance and greatly improved temperature resistance.
Al-Etihad Quantum maintains its flexibility even when used at high temperatures and extends the application range of this material style further than ever before.
Commonly compressed fibre materials are limited to temperatures below 200°C for continuous service and can become brittle reducing the material's ability to adapt to changing temperatures and pressures. Al-Etihad Quantum continues to retain its flexibility even after prolonged used at 350°C.
Al-Etihad Quantum is fire-safe to API 607 and also has TA-Luft (Clean Air) approval.