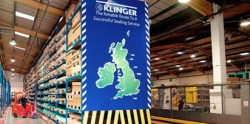 AL ETIHAD GASKET FACTORY has been in active operation since 2011, and have established a renowned name delivering only top-notch gasket products that are proven by international standards and witnessed by satisfied customers.
AL ETIHAD GASKET FACTORY is the Sole Agent of KLINGER UK in Saudi Arabia. Our GASKETS have been successfully used for many years by the OIL / GAS / PETROCHEMICAL and OTHER INDUSTRIES
We have developed a comprehensive product range including Maxiflex, Maxiprofile, RTJs, Metal Clad Gaskets, KLINGER SIL® compressed fiber and PTFE sheeting to solve all sealing applications.
Our customers, which include major global enterprises, recognize the reliability of our products and have enabled us to retain our status as industry leaders.
Product quality remains paramount to us ensuring we maintain our excellent reputation within our industry. AEGF operates a quality management system in accordance with ISO 9001:2008. Furthermore, we have attained and implement BS EN 9100:2003 in our commitment to the aerospace industry.