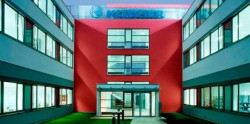 Since its foundation in 1886 by Richard Klinger, the Klinger group has been a world leader in the development, manufacture and distribution of quality sealing products.
With manufacturing locations throughout the world, Klinger operating philosophy is built on product innovation and problem solving along with unsurpassed technical support and dedication to customer service.
Austrian Engineer Richard Klinger pioneered the way forward for gasket technology with the development of the compressed fibre gasket in 1899. Even today this type of gasket material is manufactured in much the same way using the latest technology at Klinger plants in Austria, Switzerland, South Africa, United States, Australia, Brazil and Germany.
Richard Klingerd was just 25 years old when he opened his own workshop in Vienna. Interested in the problems associated with glass tube indicators on steam engines, he designed a water level gauge constructed on the reflection principle. He was awarded a patent for his invention in 1890 and opened the first Klinger factory in Gumpoldskirchen, Austria, which over the years has been extended and now is recognised as the group's largest production site.
Problems with sealing his new invention were a major factor for Richard Klinger and he was forced to look for a solution. He created the revolutionary calendared compressed asbestos fibre gasket material using a mixture of rubber and asbestos. Calling the material Klinger, this soon became a household name throughout industry and in 1913 the company's second factory was opened.
The Klinger Group has always remained a privately owned family business with a member of the family being at the helm. Dr Thomas Klinger-Lohr is the forth generation of the Klinger family, taking responsibility for the group in 1984.
Klinger now operates within 40 countries with the products being distributed and utilised around the world. The group employs around 2000 people with a global turnover of €400m.